Fab Labs Québec et échoFab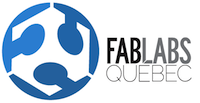 "The Fab Lab concept aims to provide the industrial world with the spirit of sharing, innovation and free access that characterizes the Internet, through freeware and social networks, for instance. Offering anyone access to simple industrial machines at a low cost enables communities to break from traditional production modes" - Raphaël Moran (at a "make-your-own-washing-machine", Fab Lab, rue89.com).
A Fab Lab embodies the community workshop concept, providing open, hands-on access to modern fabrication tools in a local workspace. Offering its services to the entire population, this open workshop is destined to meet the needs of a community's organizations and citizens in terms of creation, innovation, experimentation, prototyping, and product development.
The co-operation between Communautique and Procédurable gave rise to the Fab Labs Québec movement and to the creation by Communautique of échoFab, the first Quebec-based Fab Lab to which Procédurable contributed.
The goal of this workshop is to apply the principles of the Fab Labs movement by providing open access to cutting-edge technologies. This enables entrepreneurs, teachers, artists, educators, designers, engineers, machinists, health professionals and many others in the Montreal area to bring their numerous and diverse projects to fruition on their own.
With a view to fostering development, Procédurable is seeking regional and provincial partners who value the integration and democratization of technology in their community.
Thus, Procédurable's mission is to engage partners who can help acquire machining equipment essential to most of the work performed in a Fab Lab workshop (laser cutting, digital milling machines, 3d printers and scanners, etc.) as well as promote and support the movement's mission regionally, nationally, and internationally.